Company History
After graduating with business and pre-med degrees in the early 1980s, the two company founders spent the next few years on advanced graduate studies at the University of California, San Francisco in Nuclear Medicine, and at the University of California, Irvine in Business Administration.
From the mid-'80s to 2000, they worked for a variety of medical practices and large technology companies:
One, in business development, operations, and corporate finance and accounting departments for large technology companies.
The other, in a variety of front- and back-office positions in private medical practices, a large private hospital, and a large university teaching hospital.
In 2000, They established the company as a consulting and service company, and incorporated as Western Medical Billing Solutions, LLC. The goal was to provide physicians personalized, professional, and cost-effective practice-management solutions and services. Then as now, their goal was powerfully simple:
Help physicians optimize their practice performance and profitability.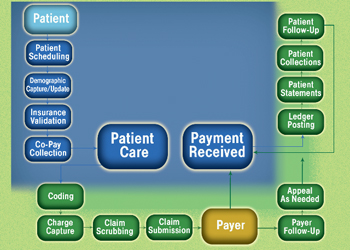 The Company felt that it could help physicians feel more secure with their cash flow by streamlining front-office processes, using technology to move information and funds, and by eliminating delayed payment cycle times due to inefficiencies, paper work delays with third-party payers, and medical system bureaucracies.
One of the distinguishing features of MedValent over the years is the close personal contact the founders have maintained with their Client physicians and practice management staff. Through hands-on work with the practice team, the Company has consistently implemented cost-saving solutions leading to enhanced front-office efficiency and greater practice profitability.
MedValent's team has developed core competencies in the following areas:
Information systems, databases, and networking
Front-office procedures
Medical coding
Medical insurance billing and electronic processing
Insurance/Third-party payers follow-up and appeals
Patient follow-up and collection recourse
HIPAA compliance
New practice start-up
Numerous practice specialties
In 2008, with the Company continuing to grow, the founders relocated to new offices and renamed the Company to reflect its success in working with physicians: MedValent.
Our Business Ethics
Healthcare has long been identified with a high degree of ethics and professionalism. MedValent is committed to the highest standards of ethical behavior in the handling of our Clients' practice management services.
As a vital part of providing our Clients with best-in-class revenue cycle management, MedValent:
Exercises sensitive professional and moral judgment in all business activities
Acts in a way that will honor the public interest and demonstrate a commitment to professionalism and competence
Performs all business activities with the highest sense of integrity
Maintains objectivity and avoids any conflict of interest
Strives to improve the quality and competence of all our services through continuing education
Exercises care and diligence in providing services
Maintains confidentiality of patient and Client information
Complies with all relevant federal, state, and local laws and regulations
Refrains from making misleading or false statements about professional qualifications, experience, performance, or results that can be achieved
Giving Back
As MedValent's success has grown, so has our commitment to giving back to others in ways where we can truly make a difference.


Click here for more information on the Door of Faith Orphanage.
Based in California, MedValent and its employees have supported the Door of Faith Orphanage in La Mission, a small village in Baja California, Mexico. We contribute time and resources to helping this organization build needed housing for families and children in the community. The orphanage uniquely cares for and supports orphaned children in an area of Mexico where no government assistance is available, yet is severely needed.
What They're Saying
"MedValent was quick and easy to integrate into my new practice. They are very knowledgeable about the latest codes and practices of payers. They facilitate a very impressive cash flow cycle from patient to payment."
Physical Therapist
"We hear frequently from patients who comment about how friendly and medically knowledgeable they [MedValent] are about their insurance claims and what needs to be done next."
Office Manager/ENT Practice